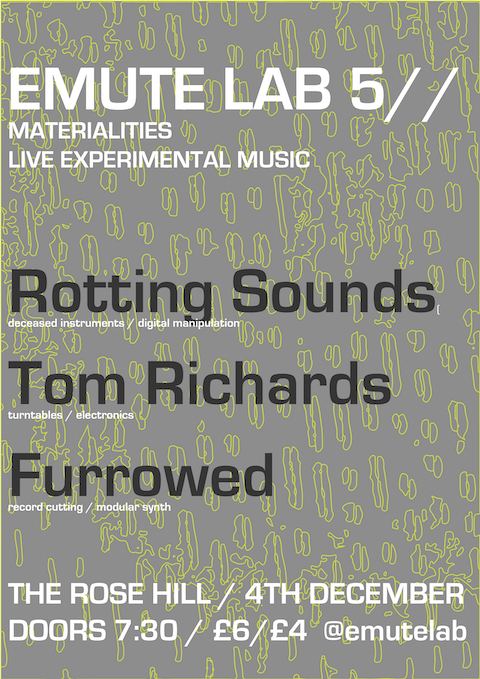 Emute Lab presents: Materialities (04/12/19)
An evening of experimental music celebrating materialities in music making. From deceased instruments manipulated as digital fragments to turntables controlled by synthesisers, live record cutting and electronics.
Artists:
Rotting Sounds http://rottingsounds.org
Two solo performances joined under the Rotting Sounds project and by a common theme.
Thomas Grill: Musical material
Probing of fragments of deceased instruments by use of digital sound.Sounding the materials, shapes, resonances – tracing remnants of a musical life.
http://grrrr.org
AND
Till Bovermann: Buffer manipulations
Probing and fragmentation of deceased digital sound. Sounding the materials, shapes, resonances – tracing remnants of a brief ephemerality.
http://lfsaw.de https://lfsaw.bandcamp.com/album/re-interpretation
Tom Richards: Voltage controlled turntables and electronics
Performing with modified turntables and synthesisers
Tom Richards is a musician, sound designer, artist, researcher and instrument maker, working in London UK. He has been working between sonic art, sculpture, film and music since graduating with an MA in Fine Art from Chelsea College of Art in 2004. Richards has built his own idiosyncratic modular electronic music system, with which he creates slowly evolving and heavily textured polyrhythmic improvisations. He has performed and exhibited widely in the UK, as well as internationally in the US, Germany, Peru, Singapore, Hungary, Japan and Sweden. Selected works and live performances have taken place at Tate Britain, The Queen Elizabeth Hall, The Science Museum, Spike Island, Cafe Oto, MK Gallery, Focal Point, and Camden Arts Centre. He has recently finished his PhD (Goldsmiths/Science Museum) on the work of Daphne Oram: electronic music pioneer, and founder member of the BBC Radiophonic Workshop. This research included the construction of Oram's Mini Oramics synthesizer design (Circa 1975), a project that has since gained worldwide attention. He is represented by Nonclassical.
Maximum Overdrive - Performance with Tom Richards from Tom Lock on Vimeo.
Furrowed: Live record cutting and modular synthesiser
New alias and project of Emute member Dylan Beattie. By using a record lathe and electronics a sound world is built around the material properties of live cut vinyl records.
http://furrowedsound.co.uk/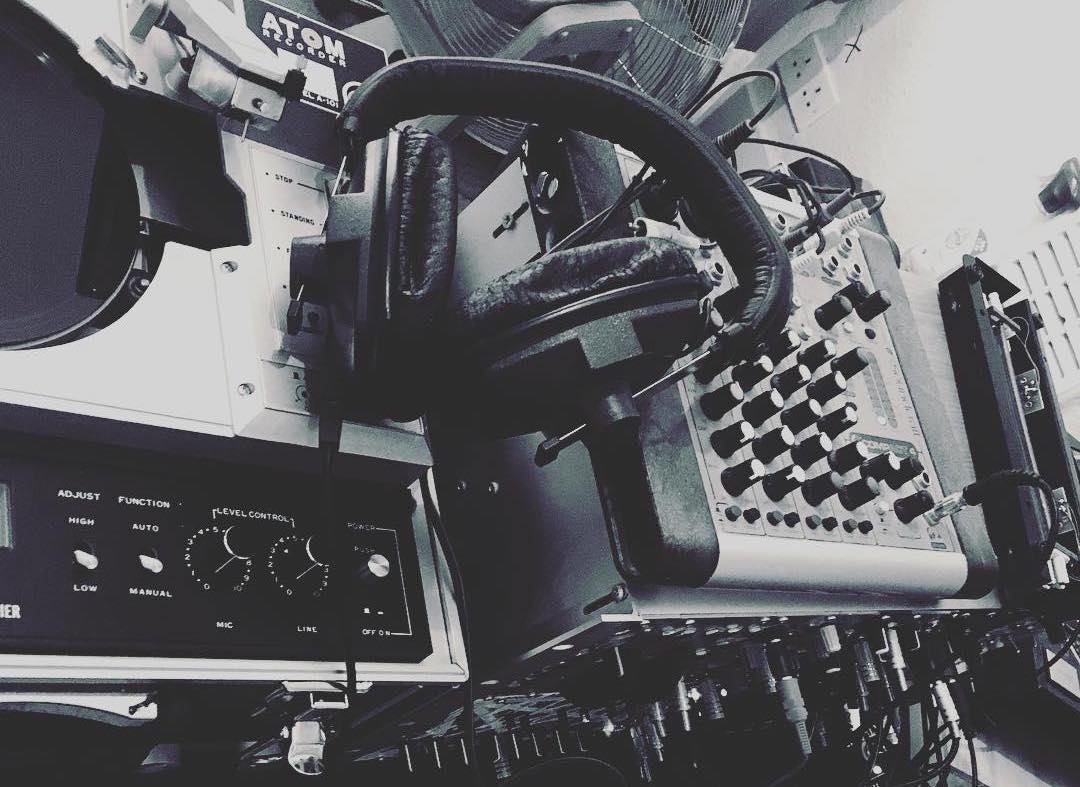 The Rose Hill 4th December 2019, doors 7:30 £6 / £4
Advance tickets: https://www.eventbrite.co.uk/e/emute-labs-5-materialities-tickets-80358270751?fbclid=IwAR24wQuZiU43zIYNhlPd3hE5FU0fPazCZfJV3cSZxK5kPK-2F-UcS1pKh2I
@emutelab
https://www.facebook.com/events/720543615076362
---